This month, we spoke with Maria Hale, head of housing systems at Citizen. We discussed how the organisation has used technology to enhance the customer experience, and how customer communications have become an increasingly important and complex function for housing organisations.
What does customer experience mean to Citizen?
For us customer experience means giving everyone who receives a service from us or interacts with us a great experience. We want to make sure that whenever a customer needs us that it's really clear how they can do it, that this suits them and that their experience is hassle free and positive. Customer service organisations are constantly upping their game to make customer experience the best it can be. Traditionally housing organisations have been a bit behind the curve on this but whatever service someone is receiving we can always make their experience a good one.
Customer experience is a complex thing, made up of many touchpoints across services delivered by housing organisations. How does having an integrated system help to support an excellent customer journey experience for your customers?
Everything links back to CRM – ActiveH. Customer contacts are in one place and enabling full visibility of how and when the customer contacted us and what about
If a customer calls us out of hours that enquiry is handled by colleagues in our outsourced call handling service who can also see a full history of previous contact and they leave a record of the latest enquiry on CRM updating the history. If a customer has made an enquiry via the customer portal, we can see that record on their contact history in CRM. If service colleagues in our local teams have had contact or are dealing with an enquiry it is visible to other colleagues – every contact regardless of how the enquiry is made or who is handling it, is visible on CRM.
This means that customers don't have to repeat themselves; we are more likely to be able to resolve an enquiry at the first point of contact and we have intelligence around how; why and by what channel customers are contacting us, which helps us to tailor and shape our services.
Omnichannel customer communications
At Citizen, you take customer communications very seriously and it forms a significant part of the customer journey – your social media feeds and website are testament to this! But, in terms of the back-office and daily customer interactions, what are the software products that support omni-channel customer communications?
We've upped our game significantly on the quality of our customer communication – this has included making improvements to our existing software and introducing new pieces of software to drive improvements in our work.
Our CRM is ActiveH and we use Omfax scripting to handle all enquiries including those coming in via the customer portal. When we rebranded in 2019, we revamped our website and portal. We now have webchat and this and emails from customers all leave a footprint within CRM, so that we have a complete picture of a customer's interactions with us.
Campaign Monitor is an email system that we have introduced to make our email communication with customers slicker, more professional and, crucially, intelligence based. The system has helped us to lead a process of cleansing our email data and we now regularly send branded, professional emails which are at the same level of the best customer service organisations. This not only makes the content more engaging and focused; it also allows us to see in the back end how well our customers are engaging and what they are engaging with.
We have implemented a new Customer Experience platform (Rant & Rave) to capture real time feedback from customers following a transaction with us – the satisfaction scores and customer sentiment is really helping us to focus on areas we need to improve for customers and to ensure we keep doing the things we are already doing well. An enhancement is that we can write back into ActiveH that the customer has had a survey which helps advisers and gives a full picture of contacts we are making with customers to obtain and respond to their feedback.
We implemented Browsealoud on our website to ensure we have accessibility tools to assist all customers to use that channel and we are delighted to also be able to enable Browsealoud within the customer portal.
The impact of technology in housing organisations
What impact do these technologies make for your organisation? Which specific functions, services or teams benefit from them most, and in what ways?
All Citizen teams benefit – the technologies have dramatically improved how we engage, our accessibility and the quality of information that we send out to customers as well as providing business intelligence to enable us to analyse customer experience and patterns of contacts that drive our transformation process – looking at our processes to make them lean; making business efficiency whilst keeping the customer at the heart and ensuring we keep customers up to date. And its not just the volume and quality of data that's changed, its our thinking about how we triangulate the intelligence and use the insight to focus our attention.
The impact of technology in housing organisations
During your recent career, you've been critical in introducing customer portals to two housing associations – one being Citizen, which launched its rebranded portal a little over 12 months ago. What are your tips and recommendations for any housing organisations looking to introduce a portal, or replace an existing one?
It seems obvious, but the starting point has to be your customer. Do all you can to involve and immerse customers to make sure that what you are about to embark on, is matching up to their expectations and beliefs, rather than your own. You have to do this right to get off on the right foot.
In 2019 when we rebranded as Citizen, we decided we wanted to make some major improvements to the portal. We held many workshops with customers and conducted surveys to find out what worked and what didn't, and we tested our changes with customers too. This was imperative.
The next thing is to take the time to keep your portal on brand. We worked really closely with MIS-AMS to make sure the system looks great and ensure the transition is as seamless as possible between the website and the portal. This is so important for a customer experience.
Take the time to listen to what your customers have told you and then do as much as you can to simplify the process and the language you use. For us a repair transaction was a great example of a process we needed to scrutinise as it is the highest volume interaction we have. We looked through every step to see where we could streamline and make it easier and faster for a customer to report their repair.
Also, make sure that you launch when you are ready. Your biggest moment for engagement and sign up is when you launch, so there's no point doing this if crucial functionality is missing, or customers will take one look at it and not return. When we launched our new website and portal in September 2019 it was ready to go.
In reality your portal then needs to become a constant part of your ongoing promotion. We've run a number of incentivised campaigns with competitions to win shopping vouchers to encourage people to sign up or use the portal. We always carefully harvest our customer data to target the right customers – for example there is no point sending an email to sign up to someone we already know is actively using the portal.
We also now make promotion of the portal a big part of our tenancy sign up process. So, our welcome email to new customers takes them straight through to the portal and we encourage sign ups when we hand over to the customer. Getting off on the right footing and getting customers into the habit of using it is crucial to make it stick.
All of this has helped us significantly increase the number of active users on the portal and in a year, we went from 8% of our repairs being booked online to more than 20%. We receive an average of 615 logins a day with an average of 86 new registrations each day. Training advisers in our customer service centre to weave into their conversations promotion of the portal and to utilise web assist (an ActiveH feature which enables them to log into the portal on a customer view, and guide customers step-by-step through the navigation and processes) when they are handling an enquiry on the phone has also helped to ensure customers are aware of the benefits of the portal. In CRM visualisation on dashboards draw to advisers attention information about the customer and their customer portal status.
We now make the customer portal central to any process redesign and have an ongoing development plan.
Learn more about the ActiveH customer portal here, or alternativly, get in touch with a member of the team at ask@mis-ams.com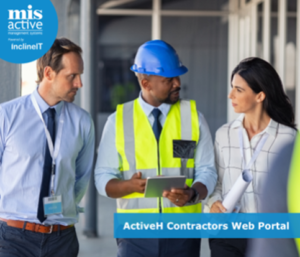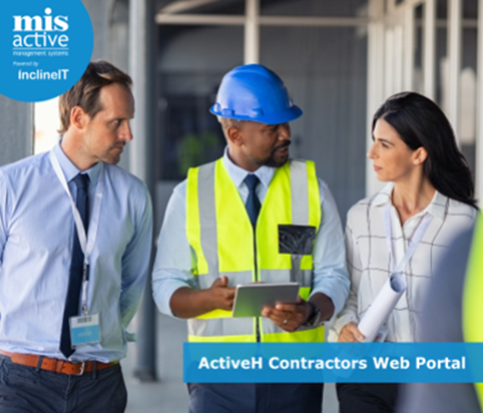 Blog
Contractors Web Portal Five years on from the Grenfell Tower disaster, the Building Safety Act 2022 became law in April, bringing changes to the way residential buildings are built and maintained, and new protections for leaseholders. Add to that ambitious net zero targets and the growing desire for housing organisations to achieve wider social value priorities only increases pressure on housing management teams who use outdated, legacy systems to manage their housing portfolio.  As the construction industry faces many more challenges such as keeping up with compliance regulations, reducing costs by effectively prioritising jobs and completing them to a high
Read More »
Sign up to our newsletter
Sign up today for hints, tips and the latest news at MIS-AMS.

By clicking 'Submit' you understand and agree to us using your information to respond to your enquiry and to email you further marketing communications from MIS-AMS. You can unsubscribe or change your email preferences at any time.