Welsh Housing Association Barcud (previously Tai Ceredigion Cyf and Mid Wales Housing Association), went live with ActiveH, their new housing management system supplied by MIS Active Management Systems, in July 2020. 
ActiveH remote implementation and user training – a success story
Barcud, which has around 4,500 homes, has been formed by a voluntary merger of Tai Ceredigion Cyf and Mid Wales Housing Association. The merger was undertaken to help improve the services it delivers to its tenants. The new ActiveH solution includes a core housing management module, mobile working solution, asset management and a contractors' module for maintenance job costing, making operations much more cohesive.
Thanks to excellent teamwork and some creative problem solving, the implementation was complete in only 12 months despite the challenges presented by the UK lockdown.
The essentials for a successful implementation
The implementation completed in Summer 2020 saw phase one of the project, the transfer of Tai Ceredigion Cyf stock into ActiveH, finalised.
Barcud's Assistant Director of ICT and Business Improvement, Gavin Harvey said: "We awarded the contract to MIS Active Management Systems due to the excellent feedback we received from their customer references on both their products and customer service. During the implementation, they didn't disappoint."
Originally planned to complete a few weeks earlier, the go-live date was delayed a short time to allow Barcud and MIS Active Management Systems to reinvent how to deliver user-training with staff members working from home during the lockdown.
Harvey explained: "Within our phased approach, we always intended to start by creating a solid foundation to build upon, so we initially focused-in on the housing management module and those that enable maintenance and asset management.
"MIS Active Management Systems allocated a dedicated team to our implementation project that provided one to one support. We genuinely felt as if they were working as a part of our team – which in this market is pretty unique. I've worked with various housing software vendors over the years, and none match the service delivered by the team at MIS Active Management Systems."
"At the beginning of the project, we had to make some difficult decisions about how to migrate our data, which was spread across disparate systems. Although we were leaning towards opting for the standard approach of taking static time shots, the team at MIS Active Management Systems suggested we take a live extraction approach.
"We were sceptical because of the time and resource implications and initially progress was slower than we had hoped, but the approach paid huge dividends on go-live day when the migration was completed seamlessly."
Using modern media trends to deliver user-training
The two teams had commenced the project before COVID-19 was a recognised risk. As both organisations had the necessary technology to continue working on the project remotely, when the lockdown hit it was business as usual, with the one exception of user-training.
Before the go-live date, the two organisations worked closely together to reinvent user-training, which was traditionally delivered in-person during structured training sessions.
"We came up with the idea of delivering training via video, and it's been a real success," said Harvey. "The team can now access training on-demand, enabling them to independently problem-solve if they forget how to work a certain system function. The IT team are still there to help when needed. But in this day and age when the appetite for video media is skyrocketing, the housing team have loved being able to self-serve training. It's also helped free the IT team up to focus on phase two of the ActiveH implementation."
He continued: "We're keen to use video training on other implementation projects – regardless of whether the team are working remotely or in the office. It's just worked so well."
Success fuelled by partnership
Following the successful completion of phase one, Barcud and MIS Active Management Systems are now in the process of implementing phase two which includes the mobile surveyor and planned maintenance modules, as well as a customer portal (at the time of writing). After this, they will move onto the final phase and shift focus onto transferring the new housing stock acquired during the merger into ActiveH.
Sharon Tatton, Implementation Manager at MIS Active Management systems said: "The team at Barcud have been a joy to work with. Headed up by Gavin and Daniel, the project has been managed extremely professionally, but we've had a lot of fun navigating through the various complexities that have been thrown our way. The relationship between our two teams served as an excellent foundation for the success of this project, and we look forwards to working together in the years to come."
Harvey added: "From day one, our two organisations have worked as one team. Although on both sides the allocated resources were quite lean, we achieved a great deal in a short space of time. We were able to work without politics and bureaucracy, to make decisions and move on quickly. They are a great bunch of people, and together we have struck up a successful partnership that will support us through our ongoing transformation."
Complete this form to request a demonstration of ActiveH.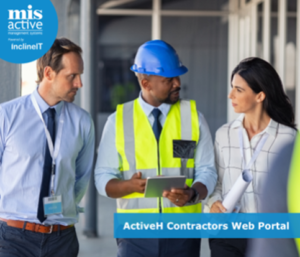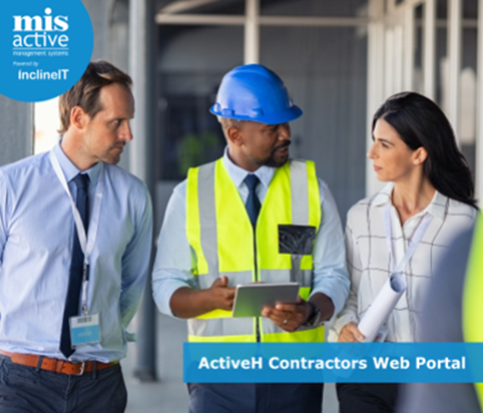 Blog
Contractors Web Portal Five years on from the Grenfell Tower disaster, the Building Safety Act 2022 became law in April, bringing changes to the way residential buildings are built and maintained, and new protections for leaseholders. Add to that ambitious net zero targets and the growing desire for housing organisations to achieve wider social value priorities only increases pressure on housing management teams who use outdated, legacy systems to manage their housing portfolio.  As the construction industry faces many more challenges such as keeping up with compliance regulations, reducing costs by effectively prioritising jobs and completing them to a high
Read More »
Sign up to our newsletter
Sign up today for hints, tips and the latest product news.